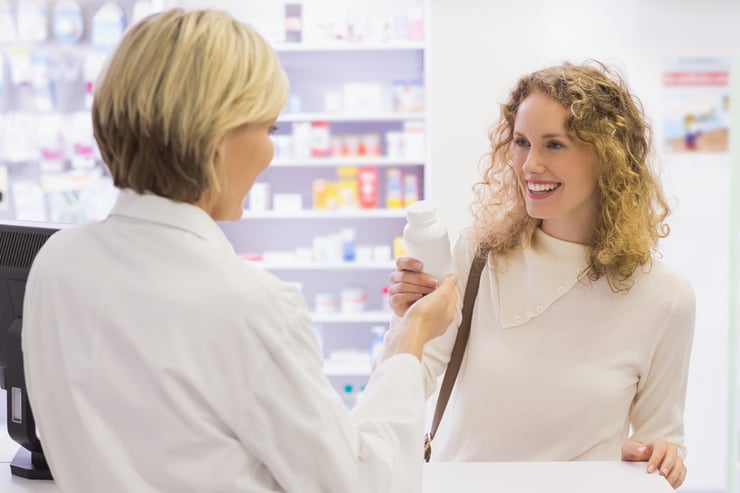 Hospitals are leaving revenue sources and savings and on the table by not maximizing their outpatient pharmacy potential. Let's take a look at five best practices for outpatient pharmacy success that can help hospitals capture new sources of revenue, increase quality, improve the patient experience, curb readmissions and reduce medication costs for hospital employees.
Best Practice #1: Generate new revenue and savings
Each discharged patient, outpatient visit, and ED patient typically gets 2 or more prescriptions[i] at an average cost of $56 per prescription.[ii] To demonstrate the magnitude of this revenue, we applied these figures to a sample 300-bed hospital system with 14,000 discharges; 50,000 emergency department visits and 161,000 outpatient visits. With 225,000 annual patient encounters requiring 450,000 prescriptions,[iii] this example system represents more than $25 million of revenue and $750,000 (3%) in EBITDA.
Be sure your hospital pharmacy is capturing prescription revenue before patients ever leave the hospital. It is not only good clinical practice, but it is good financial practice as well.
Best Practice #2: Reduce hospital employee medication cost
A hospital-owned outpatient pharmacy can generate savings on the cost of medications for hospital employees and their dependents through their prescription benefit plans. Under the "own use" definition, hospitals can purchase drugs for their inpatients, hospital staff, auxiliary and retired employees at inpatient GPO prices.
In this class of trade, drug prices are typically 5% to 12% lower than retail prices at big box chains and community pharmacies. In order to qualify for this pricing, the hospital must demonstrate that it is using those drugs for this limited population only.
Best Practice #3: Enhance patient experience, improve medication adherence & reduce readmissions
When patients are discharged from a hospital without medications in hand from a hospital outpatient pharmacy, an average of 20% of those prescriptions go unfilled.[iv] Providing access to medications onsite makes it easier for patients to get and take initially prescribed drugs.
Make sure your outpatient pharmacy is delivering prescriptions directly to the patient's bedside prior to discharge, and provide counseling to ensure that the patient understands how and when to take their medication. The patient leaves the hospital with medications in hand, increasing the probability of medication adherence, improved outcomes, and reduced readmissions.
Best Practice #4: Stock specialty drugs
The specialty drug market is projected to represent greater than 50% of all drug spend in 2020. With connection to the patient's EMR, the hospital outpatient pharmacy is ideal for offering these specialty medications to patients with complex conditions. Additionally, hospitals are well aligned to deliver care and better outcomes to patients with chronic diseases.
Be sure your hospital is providing specialty medications and related care management services to both maximize patient outcomes and keep patient dollars inside the hospital.
Best Practice #5: Explore the 340B Drug Discount Program
The 340B Drug Discount Program provides an opportunity for hospitals to generate savings on drug purchases for medications that are made available to an underserved patient population. For 340B covered hospitals, prescription medication costs potentially could be reduced by more than 50%, saving the facility an estimated $1.3 million per year.
It is important to note that 340B hospitals must have carefully controlled processes and appropriate systems in place to ensure that they meet the strict patient eligibility criteria as defined by the Federal Health Resources and Services Administration (HRSA). In addition, HRSA requires that 340B covered entities demonstrate that they are using savings from the program to expand care for their underserved patients.
Conclusion
By maximizing the outpatient pharmacy, hospitals and health systems can generate new sources of revenue, decrease costs, improve clinical quality and extend coordinated care to patients. To learn more about how CPS can help your hospital achieve financial, operational and clinical benefits by optimizing your outpatient pharmacy, email: contactus@CPSpharm.com.

[i] AHRQ MEPS Statistical Brief #245, May 2009. Accessed April 11, 2017. https://meps.ahrq.gov/data_files/publications/st245/stat245.pdf

[ii] National Community Pharmacist Association Digest, 2013. Accessed April 11, 2017.http://www.ncpanet.org/pdf/ digest/2013/2013digest_financials.pdf

[iii] Billian's Health Data 2013-2014.

[iv] NCBI. Medication Use in the Transition from Hospital to Home. Accessed April 11, 2017. https://www.ncbi.nlm.nih.gov/pmc/articles/PMC3575742/.